Behind every great meal…is a story.
Santoni's Pizzeria and Italian Restaurant in Garfield was founded in 1988 by Ed Lewer and Joe Parillo. Both coming from a vast variety of restaurant experience they set out to create mouthwatering food using only freshest ingredients and the highest quality products. Santoni's Pizzeria and Italian Restaurant was an instant hit and over the years has become a staple in the town of Garfield. Ed and Joe believed in not only providing a great product as a key to their success but staying involved in the community. For decades they have been highly involved in the community. Santoni's has sponsorship many fundraising events, nonprofit organizations, and various town sports teams. This community involvement led the business to win Business of the Year in 1994.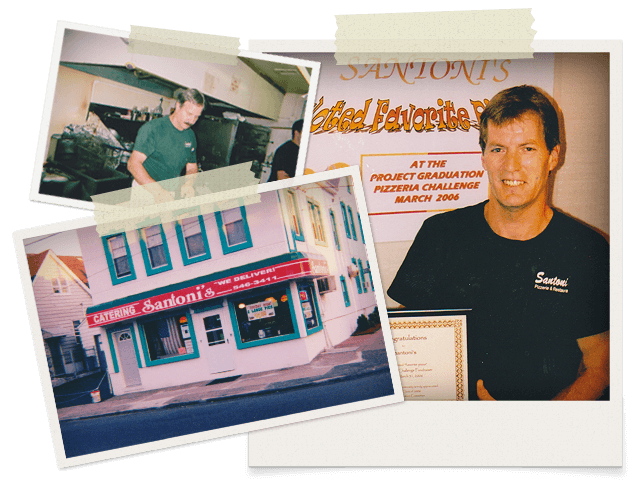 Santoni's Pizzeria has always been a family run and operated business. Joe and Ed's sons worked in the pizzeria since they young kids and are continuing their father's principles and philosophy.  In 2013, Santoni's opened its second location in Ridgewood, NJ with the same idea and principles in mind. Since the grand opening Santoni's has been an instant success in town and has won several awards for best pizza in Ridgewood voted in a blind tasting by the Ridgewood High School pizza club.
Much more than just another pizza joint, Santoni's embodies what your favorite neighborhood pizzeria should be– A warm, welcoming place where you can have a delicious meal with your friends and family. We pride ourselves on making the only best quality food while using only the freshest ingredients. Santoni's aims to be your favorite neighborhood pizzeria and restaurant.